Benchmarking of Cluster Organisations
In contrast to evaluations and economic impact assessments benchmarking is an efficient and effective way to identify the potential of a cluster and to develop strategic recommendations for its further development within a short time frame.
Benchmarking is a comparative analysis of structures, processes, products and services. It compares an entity to peers in the same field of activity and/or to best practices from entities in other areas. The objective of benchmarking is to learn from better performing peers or other entities in order to improve own structures, processes, products and services.
Availability
The benchmarking exercise is open to (and beneficial for) all interested parties (including non-cluster organisations).
Benchmarking interview
ESCA cluster benchmarking is based on a personal interview of about two hours duration with the manager of a cluster organisation. The interview is conducted by an impartial ESCA expert.
28 indicators are analysed
By focussing on 28 indicators the interview captures data on different dimensions of the cluster and the cluster organisation, including the structure of the cluster, the cluster management and the governance structures of the cluster, financing of the cluster organisation, services and activities provided by the cluster organisation, achievements and recognition of the cluster and the cluster organisation (for an overview of indicators please see download).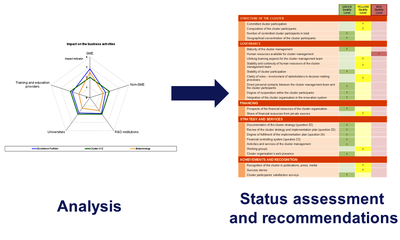 Benchmarking report
The analysis is presented in a comprehensive benchmarking report (ca. 70 pages). The report includes graphical comparison of the cluster with clusters from the same technological area and the most excellent ones in Europe and prominently features a set of detailed and customised recommendations for improvement.
Comparative portfolio of more than 1.200 clusters
For the purpose of benchmarking the analysis refers to a comparative portfolio of more than 1.200 clusters from 47 European and overseas countries (for an overview of benchmarked clusters please see Database of Benchmarked Clusters).
Confidentiality
Collected data and any reports produced are treated with absolute confidentiality and will not be made available to any third party.
What cluster managers say about the benchmarking
"The NGPE Excellence project gave us the opportunity to benchmark our cluster organisation with other excellent clusters in Europe. Although the Mechatronics Cluster was rated among the top 10 % of all surveyed cluster organisations, there is still room improvement as analyzed in detail in the benchmarking report."
Christoph Matthias Reiss-Schmidt, Clusterland Oberösterreich GmbH (Austria)
"Thank you very much for this comprehensive and valuable benchmarking report. We have already distributed the report amongst our core members and our board, and have received valuable feedback on your recommendations that will influence our strategy."
Peter Black, Director, Offshore Center Danmark (Denmark)
"Thank you very much for the benchmarking report and the competent recommendations that we will put into action. It is really interesting to compare oneself with other clusters in a larger context."
Dr. Jürgen Bauer, Managing Director, Forestry and Wood Cluster Initiative (Germany)
"I would like to thank you for the detailed information and for the material sent which is of high interest for our cluster."
Bianca Dragomir, AVAESEN (Spain).